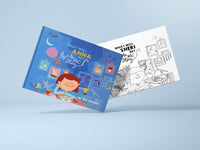 Based on our Best-Selling ABC Book
Ask your child which imaginative profession they want to be, and then let them color it in!

Check out our best-selling ABC Book!
Seriously Personalized!
See if your child can find their name on every page in this seriously fun personalized book!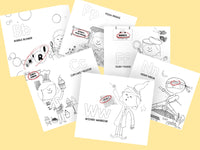 Who Will You Make a Book For Today?
Coloring Book FAQs
Each coloring book has a different set of personalization options. At minimum we ask for your email so we may send you the coloring book you want! Enter the details required and hey presto! Your personalized coloring book is made and sent to you!
We ask for your email address so we can send you the personalized coloring book you requested. Once you enter your email address we send your coloring sheets as a PDF.
In the email you receive will be a link to a PDF of the coloring book you requested. Click on the link to open the PDF, and then all you need to do is print the PDF, and away you go! You can also download the PDF to your computer and share it with your friends!

Give your child some crayons or coloring pencils and gift them hours of coloring pleasure!
It's possible your email went to your spam folder. All emails are sent from info@manimaltales.com. Check your spam folder to see if you can find the email with your free coloring book.

If you don't see the email, you may have incorrectly entered your email address, so go back and re-enter your details.

If you still don't receive your email, please send us an email at info@manimaltales.com and we will help you out!
Yes! They are absolutely and completely free. We want you to enjoy them with your kids. Have fun!
By giving us your email address you are agreeing to sign up to our
mailing list. This means we'll occasionally send you book
news, delightful discounts and crafty activities for kids. But don't worry, you can unsubscribe or change your preferences at any time.
Why yes we do! Click on our coloring books page to view all coloring books on offer!