Enter your details and preview the
book for free!
Books produced in 2-3 business days.
Standard shipping takes 5-8 days
About The Book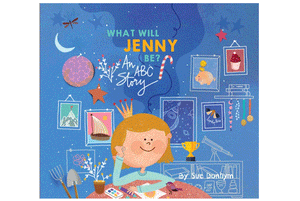 They're The Hero.
Choose the characters and enter their name.
Reading a book will never be the same.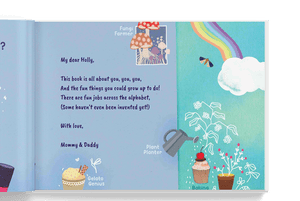 Dedicated With Love.
Each book comes printed with a custom dedication.
They'll never forget who got them this creation!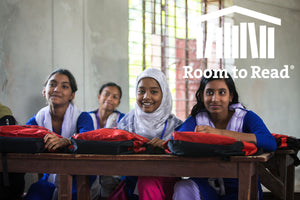 Helping Others Read.
Every book you buy is a good deed,
A part of each sale goes to Room To Read.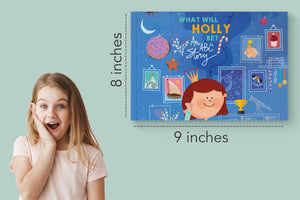 A Gift To Treasure.
Printed on high quality recycled paper, built to last.
We guarantee your children will have a blast!
My Daughter wants to be everything
Evie has had so much fun reading this book. She loves all the jobs and wants to be everything and will get it out to tell her little sister what she is going to be she's called Grandad to read it to him too. It's one of our regular reads now, it's inspiring and fun and just shows her she can do everything. I might need to explain in a couple of years that bubble blower isn't going to pay much haha.
ABC
We loveeee this book! Such a beautiful book to read to my son! The story was fun and the pictures were lovely. Very happy xx
Abc what will I be
Very happy with the books. Want to order more. Thank you
Wonderful Personalized Books
I purchased these as gifts. The children, parents and grandparents loved them. Children love to see ( or hear ) their names in a story.
ABC What can I be
My granddaughter was 3 when she got the book and loved the colours but now she is a bit older it has sparked her imagination and curiosity for the world. Best book ever.