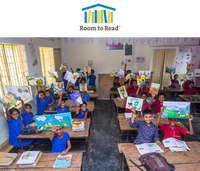 About Room To Read
Room to Read is a non-profit dedicated
To ensuring illiteracy is eradicated.
They further children's literacy worldwide,
So that all kids can have books by their side.

Over 18MM children have benefited,
And Room To Read remains committed,
To giving all children a quality education.
We are proud to support this organization.
Read More About Room To Read
View All Books
A Note from Sue...
Not every child is as fortunate as yours.
Many children around the world don't know how to read and don't have easy access to books.
That's not fair.
So for every book you purchase, we donate a percentage of the sale to Room To Read, a non-profit helping less fortunate children in different parts of the world learn to read.
Thank you for paying it forward.